The Camp-X Book Store

"Dispatches from Camp-X"

(non-fiction)

On the 10th anniversary of Inside Camp-X

Now on e-Book
NEW SPECIAL PRICE
** To place your order,
click on the 'buy now' button, and look for your shopping bag
at the bottom right of your screen.

By clicking on your shopping bag, you can 'add' or alter your purchase.


New!

Printed copies are now available!
Please e-mail Lynn at: info@camp-x.com for details.


Excerpts from

'Dispatches from Camp-X'

When the green light came on and with a stentorian shout of "GO, GO, GO! I stepped out into the darkness, immediately to be tossed about, head over heels like a leaf in a gale, falling like a stone. Suddenly there was a loud crack and I wasn't falling any more! I looked up and saw Andy and Jack's parachutes just above me. Great! It had been a good exit..."
From Hamish Pelham Burn
***********
Then an almighty flash and a detonation that almost knocked us over. F______G time pencils! Wonderful invention, but not the soul of reliability. There was much shouting and about a dozen Germans erupted from the hut with Schmeissers letting loose all over the place. Noisy, but not like the SS! Then a dispatch rider on a motorcycle started off down the road. Not at all a good idea, so I decided to knock him off, despite revealing our position; got him with the second shot. In the meantime, like the well-trained soldiers they were, Andy and Jack began to pick off Germans with deliberate, well aimed single shots. I joined in. It was all over in about three minutes. We got them all...
From Hamish Pelham Burn
***********
One of the most shocking discoveries that I made during my research of Camp-X, was to learn that the British were actually spying on Canada, William Stephenson and the British Security Co-ordination.
***********
It is highly likely that in 1943, while visiting Camp-X, Ian Fleming befriended Paul Dehn. A favourite activity of the officers at the Camp was to gather in the officers' Mess Hall on a Saturday night to enjoy a drink and spin old yarns of their previous lives. During one of these memorable evenings, the two may well have had a very colourful conversation during which Fleming told Dehn of his idea to write a series of books about a super agent: much later, in 1964, Paul Dehn wrote the screenplay for Fleming's blockbuster movie, 'Goldfinger.'


All new information released

since the publishing of Inside Camp-X in 1999!


Chapters at a glance.

Chapter 1 – A Man Called Hamish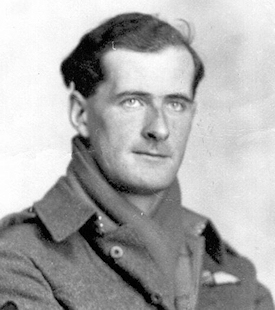 (click on the picture of Hamish to read the story)
Chapter 2 – The Paul Dehn Connection
Chapter 3 – The BSC
Chapter 4 – The BSC in New York
Chapter 5 – The BSC in Canada
Chapter 6 – Special Ops & Political Warfare
Chapter 7 – The SOE & OSS Relationship
Chapter 8 – SOE Successes
Chapter 9 – Spies Among Us
Chapter 10 – Short Stories from Camp-X
Chapter 11 – 007 & Camp-X
Chapter 12 – James Bond's Aston Martin DB5
Chapter 13 – Igor Gouzenko & Camp-X
Chapter 14 – Inside the CIA
Chapter 15 – The Demise of Camp-X
Chapter 16 – After the War


Reviews:

"I have had a chance to read your last book 'Dispatches from Camp-X. Great read, unbelievable stories!"
Thanks again, Terry - Kingston
***********
"Lynn,
I have just finished the book, (Dispatches from Camp-X), an absolute great accompanying work to your other CAMP X publications, and yet another reminder to those of us, South of the Border, of just how much the history of the U.S. and Canada (not just national security, but in general) is intertwined."
Washington
***********
"Lynn, thoroughly enjoyed the book launch, actually my first book launch, I cannot put the book down, it is like someone sitting across from you at a kitchen table telling a story! Can't wait for the screenplay and the red carpet. I even like the font - getting old with these eyes - Continue writing and telling the story of what happened right in our back yards.
Cheers" Linda - Oshawa
***********
"...there is valuable new material about the camp in Dispatches from Camp-X. Scottish-born Captain Hamish Pelham Burn's first person account of how he and two other instructors from Camp X staged a daring raid and destroyed a German radar installation in Brittany just before D-Day is the most dramatic. Also included is an account of Oxford-educated, British Major Paul E. Dehn, a Camp-X instructor in psychological warfare, who after the war became a highly successful screenwriter of spy and other mystery films such as Goldfinger (1964), The Spy Who Came in From the Cold (1965), and Murder on the Orient Express (1974)."
John Chambers - Rutgers University


Other e-books by Lynn.