The Camp-X Book Store

"The Birth of Special Operations in Canada"

(Now in print)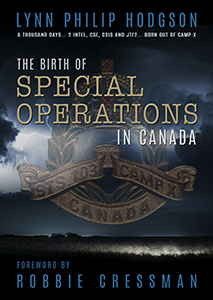 There are 2 options for purchasing copies.
Pickup in Whitby or have it mailed. (note: mailing is expensive due to its size and weight.)

For further info please PM or e-mail Lynn at: lphodgson@camp-x.com
(Books will also be available at theCamp-X walking tour.)


A truly definitive history of Canadian Special Operations.



The book has 646 pages, 176 pictures with captions (many from WW2), hard cover 7"x10" x 2" thick with colour dust cover.

It consists of 3 non-fiction books, which are based on 42 years of research and interviews with the men and women of Camp-X and BSC. (Inside Camp-X, Dispatches from Camp-X and The History of Special Operations in Canada.)


Other e-books by Lynn.